Details
Thunderpack is a low cost embedded platform with a punch. It's based of
Technexion TAO3530W single board computer
that delivers a fusion of TI OMAP3530 SOC and 802.11b/g WIFI module.
With all the brawn its OMAP3530 SOC brings to bear, Thunderpack can be used for pretty much any embedded project that you can think of - robotics, multimedia, home automation, etc.
It will whip through most challenging number crunching operations using its highly optimized Cortex-A8, DSP, Video Hardware Accelerator and PowerVR SGX 530 modules.
When it comes to Thunderpack's raw computing power and features, possibilities with embedded projects are virtually endless. OMAP3530 SOC offers the richest feature set to your disposal in OMAP35xx family.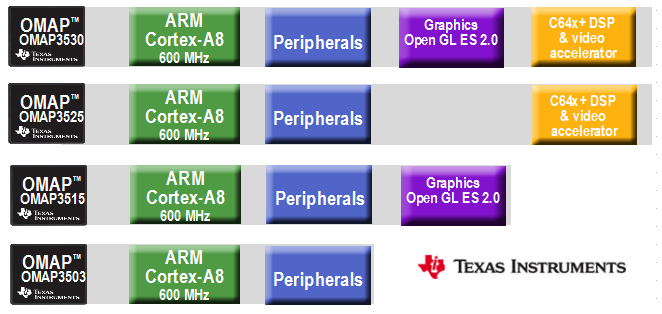 With Thunderpack, you get a complete computing platform that has its own 4.3 inch touch-screen LCD panel, on-board WiFi, RJ-45, DVI-D through HDMI and a large number of other peripheral interfaces available through extension connector.

50 pin extension connector (2.00mm pitch, through hole) breaks out I2C, SPI, Camera, UART, GPIO and other signals. This means that literally any peripheral chip on the market can be connected to Thunderpack.

Starting an embedded project has never been so easy!
Ê TAO-3530W system on module (SOM) specifications

Ê

Ê Thunder board

ÊÊÊÊÊ

System on module
Compatible with TAO-3530 using two 100 pin NAIS connectors
Ê
Movement sensor
3 axis accelerometer
Ê
RF interface
2.4 Ghz instant-on transceiver
Ê
Network
SMSC 9500 10/100 Mbps
Ê

Ê Interfaces

Ê
Connectors
2 mini-USB hosts
1 mini-USB device / OTG
RJ-45 LAN connector
SD card slot
Stereo audio in/out 3.5 mm
2W aplified speakers (L/R)
battery interface with temperature sensor
TTL LCD & touchpanel for 4.3" LCD
DVI-D signal by HDMI connector
Ê
50 pin thruhole
SPI, RS-232, UART, I2C, GPIO
Ê

Ê Power

Ê
Power requirements
5VDC
Ê

Ê Environmental and Mechanical

Ê
Temperature
Commercial: 0¡ to 70¡ C
Extended: -20¡ to 70¡ C
Industrial: -40¡ to 85¡ C
Ê
Humidity
10-90%
Ê
Dimensions
105 x 74 mm
4⅛ x 2⅞ inch
Ê
MTFB
>100,000 hours
Ê
Weight
42 grams
Ê
Shock
50G / 25ms
Ê
Vibration
20G / 0-600 Hz
Ê Pack contents

ÊÊÊÊÊÊÊÊÊ

Display
4.3" touch enabled display 480 * 272 pixels resolution
Ê
COM
TAO-3530W with 128 MB Low power mobile DDR, 256 MB NAND Flash, Wireless LAN 802.11b/g and OMAP3530 mainprocessor
Ê
Interface board
TechNexion's Thunder interface board with USB, LAN, G-sensor, RF interface, audio and battery management
Ê
Supported OS
Linux 2.6.x, Windows CE, OpenEmbedded, Android, Qt