Details
TAO3530W is a low cost embedded platform with a punch. It delivers a fusion of TI OMAP3530 SOC and 802.11b/g WIFI module. TI OMAP-3530 application processor comes with ARM Cortex-A8 CPU, TMS320C64x+ and POWERVR SGX 530 for 2D and 3D graphics acceleration. Whole spectrum of software support from Windows CE to Linux as well as Android, Qt and OpenEmbedded.
With all the brawn its OMAP3530 SOC brings to bear, TAO3530W SOM can be used for pretty much any embedded project that you can think of - robotics, multimedia, home automation, etc.

It will whip through most challenging number crunching operations using its highly optimized Cortex-A8, DSP, Video Hardware Accelerator and PowerVR SGX 530 modules.

When it comes to TAO3530's raw computing power and features, possibilities with embedded projects are virtually endless. OMAP3530 SOC offers the richest feature set to your disposal in OMAP35xx family.

Ê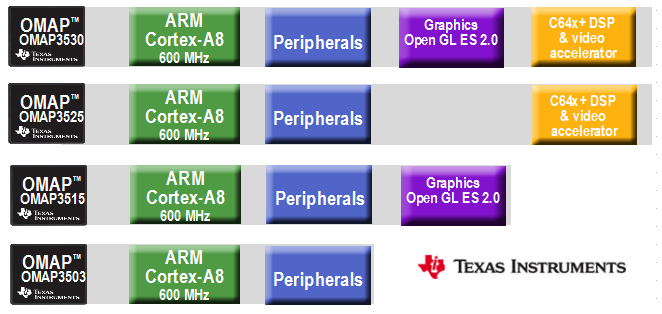 TAO3530W SOM offers excellent expansion possibilities with its two 100 pin connectors to create custom interface and carrier boards. Please, refer to 'Interfaces' section below for signal details.

TAO-3530W Specifications

CPU
TI OMAP 3530 @ 600Mhz
DSP Core
430-MHz TMS320C64x+ª
Memory
128 MB Low power mobile DDR
Storage
256 MB NAND Flash
Wireless LAN
Marvell 8686 802.11b/g
Supported OS
Linux 2.6.x, Windows CE
OpenEmbedded, Android, Qt
Ê

Interfaces

Connectors
Two 100 pin NAIS connectors with following signals
SPI, UART, USB HS, USB OTG,
I2C, PWM lines, 1-wire, MMC lines,
A/D lines, camera, audio in/out,
S-Video, LCD interface
Ê

Graphic Capabilities

Chipset
POWERVR SGX 530 10Mpolys/s, up to 720p resolution
API support
OpenGL 2.0, OpenGLes 1.1, OpenVG 1.0
Ê

Power

Power consumption
<2.0 Watt with Wireless enabled
Standby
<50 mWatt
Power requirements
1.8V, 3.3V, 5V
Ê

Environmental and Mechanical

Temperature
Commercial: 0¡ to 70¡ C
Extended: -20¡ to 70¡ C
Industrial: -40¡ to 85¡ C
Humidity
10-90%
Dimensions
63.5 x 35 x 6.4 mm
2_ x 1⅜ x _ inch
MTFB
>100,000 hours
Weight
10 grams
Shock
50G / 25ms
Vibration
20G / 0-600 Hz
Ê

Dimensional drawing

all sizes in mm