What are we busy with? Lot's of things and they all happen in parallel. We are adding new build plate system to our product line up and to give you a taste of what you will be able to do with it, here is the picture of the robot that we put together to test the waters.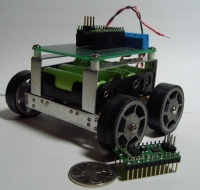 The robot's name is 'BUGGER'. It's small, it's sturdy and it buggers on regardless of what's in front of it. Hence, the 'BUGGER' :)
We also spent some time last month to make Arduino IDE compatible with ATMega324 and ATMega48. The changes are not fully tested yet on both micros but we make them available, in case someone is willing to give them a try. The code that runs on the 'BUGGER' was created in Arduino IDE and compiled for ATMega48. We used Pololu's Baby Orangutang robot controller board (ATMega48 version) for the BUGGER, as you can see in the picture.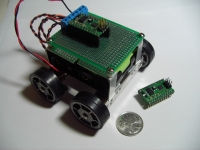 The patch will enable your Arduino IDE to generate HEX files for ATMega 48/32/324/644 AVR microcontrollers. It can be retrieved from our download section. The archive contains seven files and it needs to be unzipped in arduino-0011/hardware/cores/arduino directory. After the patch is applied, you will also need to add following to your arduino-0011/hardware/boards.txt:
################################
atmega324.name=ATmega324
atmega324.upload.protocol=stk500
atmega324.upload.maximum_size=14336
atmega324.upload.speed=19200
atmega324.bootloader.low_fuses=0xff
atmega324.bootloader.high_fuses=0xdd
atmega324.bootloader.extended_fuses=0x00
atmega324.bootloader.path=atmega8
atmega324.bootloader.file=ATmegaBOOT.hex
atmega324.bootloader.unlock_bits=0x3F
atmega324.bootloader.lock_bits=0x0F
atmega324.build.mcu=atmega324p
atmega324.build.f_cpu=8000000L
atmega324.build.core=arduino
#################################
babyo48.name=Pololu Baby Orangutang - ATMega48
babyo48.upload.protocol=stk500
babyo48.upload.maximum_size=14336
babyo48.upload.speed=19200
babyo48.bootloader.low_fuses=0xff
babyo48.bootloader.high_fuses=0xdd
babyo48.bootloader.extended_fuses=0x00
babyo48.bootloader.path=atmega168
babyo48.bootloader.file=ATmegaBOOT_168_ng.hex
babyo48.bootloader.unlock_bits=0x3F
babyo48.bootloader.lock_bits=0x0F
babyo48.build.mcu=atmega48
babyo48.build.f_cpu=20000000L
babyo48.build.core=arduino
There is no bootloader available for these micros so you will need a programmer to transfer your code (HEX files) onto ATMega 324/48.
There are few more projects are going on in our lab but we will uncover them in due time once they are ready to see the light of day.