Well, here we go. Most of the testing for ATMega32 is done and all seems to work as expected. So, if you would like to try writing code in WIRING for your robot or embedded control project you can download Arduino patches here. Here is the screen-shot of a DIFF utility showing what files were modified to get Arduino /Wiring code working with ATMega32 microcontroller.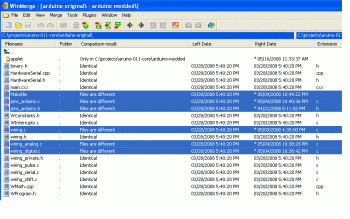 Namely, those files are:
pins_arduino.c
pins_arduino.h
wiring.c
wiring_analog.c
wiring_digital.c
There is NO bootloader available at this time; therefore, you will need to have ISP programmer to burn generated HEX files to Mega32 microcontroller.
If you have any questions, concerns, suggestions, bug reports, etc., please drop us a line in the contact form .