Details
Inferno-pack is a low cost embedded platform with a punch. It's based of Technexion TAO3530W single board computer that delivers a fusion of TI OMAP3530 SOC and 802.11b/g WIFI module.

With all the brawn its OMAP3530 SOC brings to bear, Inferno-pack can be used for pretty much any embedded project that you can think of - robotics, multimedia, home automation, etc.

It will whip through most challenging number crunching operations using its highly optimized Cortex-A8, DSP, Video Hardware Accelerator and PowerVR SGX 530 modules.
When it comes to Inferno-pak's raw computing power and features, possibilities with embedded projects are virtually endless. OMAP3530 SOC offers the richest feature set to your disposal in OMAP35xx family.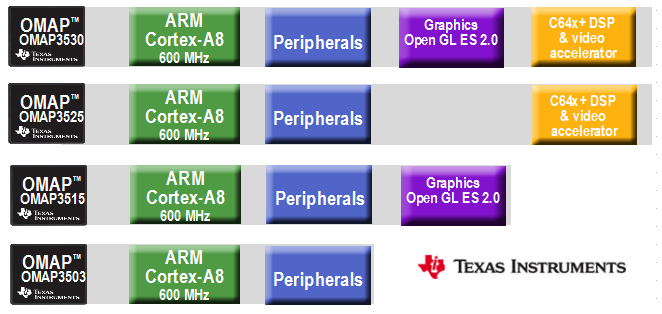 With Inferno-pak, you get a complete mini-computing platform that has on-board WiFi, DVI-D through HDMI and a large number of other peripheral interfaces available through extension connector.

40 pin extension connector (2.00mm pitch, through hole) breaks out I2C, SPI, Camera, UART, GPIO and other signals. This means that literally any peripheral chip on the market can be connected to Inferno-pak.
This kit configuration is different from original Inferno-pak offered by Technexion because we decided to upgrade TAO3530 module and include on-board wifi module for extra connectivity. Inferno-pak has a smaller form factor then its cousin Thunder-pak hence is a lot more suitable for mobile robotic platforms.
Starting an embedded project has never been so easy!
Ê TAO-3530W system on module (SOM) specifications

Ê

Ê Inferno board

ÊÊÊÊÊ
System on module
Compatible with TAO-3530 using two 100 pin NAIS connectors
Ê

Ê Interfaces

Ê
Connectors
1 mini-USB hosts
1 mini-USB device / OTG
SD card slot
Stereo audio in/out 3.5 mm
2W aplified speakers (L/R)
S-video connector
DVI-D signal by HDMI connector
Ê
40 pin thruhole
SPI, RS-232, UART, I2C, GPIO
Ê

Ê Power

Ê
Power requirements
5VDC
Ê

Ê Environmental and Mechanical

Ê
Temperature
Commercial: 0¡ to 70¡ C
Extended: -20¡ to 70¡ C
Industrial: -40¡ to 85¡ C
Ê
Humidity
10-90%
Ê
Dimensions
52 x 74 mm
2 x 2⅞ inch
Ê
MTFB
>100,000 hours
Ê
Weight
42 grams
Ê
Shock
50G / 25ms
Ê
Vibration
20G / 0-600 Hz